About Henriette
Henriette Muus, artist, journalist and writer, was born in Denmark, but has lived for long periods in France, Italy and Germany. She returned to Denmark in 1992 and was employed by Danmarks Radio. She then worked for 10 years as a political employee at Christiansborg, later as press manager for the Christian Democrats and as press manager for the Danish Ambulance Council. Later, she chose to leave politics to work as a freelance journalist, i.a. in order to have more time to concentrate on poetry and painting.
Her poems: "The 4 seasons" are set to music by the composer Henrik Metz and Endnu Et År 2019" is on YouTube where her poems are sung by singer and composer Mogens Christoffersen.
In 2005, her poetry collection "I min jagt på i morgen har je skudst i dag" was published, where she describes people's lives in today's Denmark through poems with illustrative watercolors.
In 2006, Henriette Muus met the English author Fay Weldon, who was thrilled both by the message in the poems and by Henriette Muus's very personal and beautiful illustrations for them. Fay Weldon asked permission to reproduce the poems in English. The book was published in English in 2008.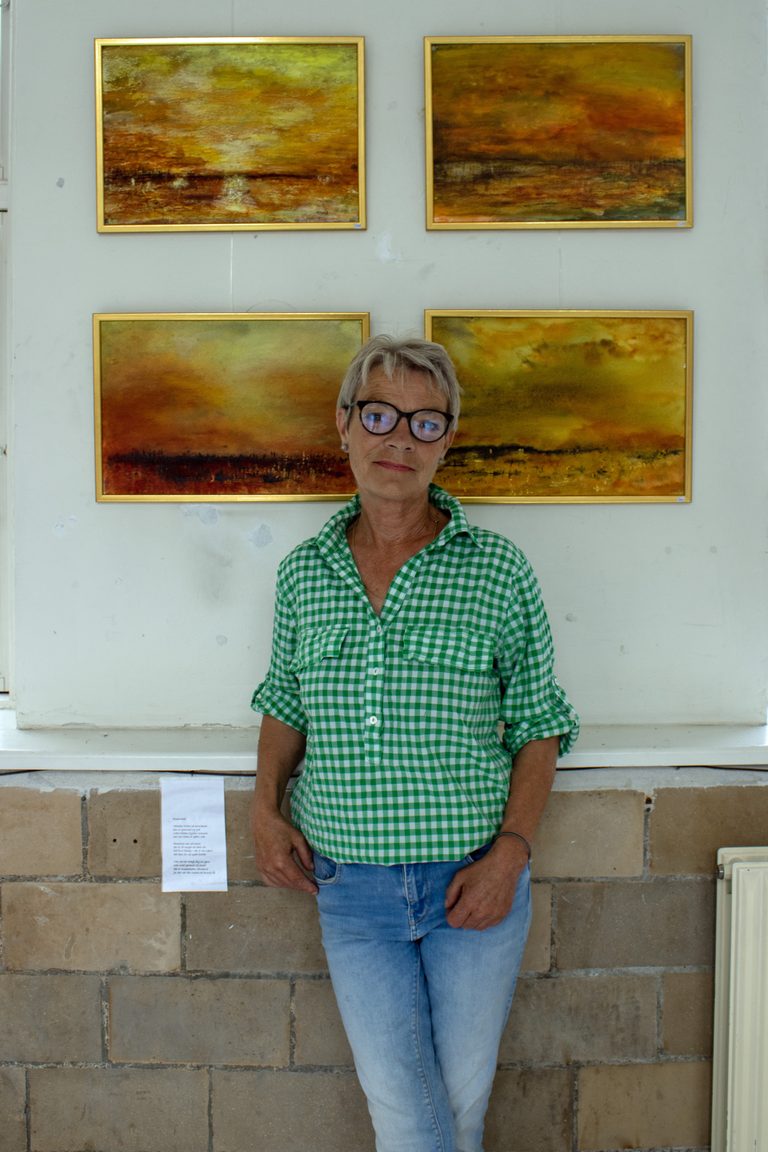 This is a book by someone who is both a poet and a visual artist. It is quite rare to find both in the same body. The ordinary emotions of being alive - love, fear, shame, grief, joy, depression, those spurts of social indignation we all experience - given proper voice and form.
I am not a born poet: Henriette Muus is. She has the vision" Fay Weldon.
Henriette Muus and Fay Weldon have performed together several times with the poems in both Denmark and England. Today, Henriette Muus is in great demand with her poetry readings and exhibitions.
In 2014, " In between my deepest thoughts" was published, poems and watercolours, which revolve around life with its many facets.
Each poem with accompanying watercolor is a tribute to life and nature, but also a message to remember those who need you.
The watercolors are non-figurative and nature-inspired with many colors and depth, which the viewer can discover for himself.
"It is my hope that the poems with the watercolors will give food for thought and leave the reader a little warmer in soul and mind." Henriette Muus .
In 2020, Henriette Muus moved into the universe of the Bible.
The last years have been the Covid years of darkness, with isolation, loneliness, insecurity, anxiety, and shaky hoardings, then we suddenly experienced that war, energy crisis and inflation became part of our daily life, and I felt I had to work with something that brought light and gave the viewer time and desire for reflection, which started the thought of going more in-depth with something. That's why I chose to move into the universe of the Bible." Henriette Muus
This has resulted in 24 pictures, all of which are motifs from the Bible, and all with quotes from the Bible, as well as a reference to where in the Bible they originate.
Below you can find some photos of Henriette Muus and Fay Weldon together.